Your father smelt of Elderberries...
I no longer consider this to be an insult - the pythons were deluded fools!...And this is why.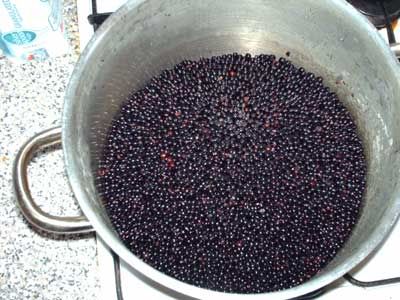 First off the kids picked enough elderberries for a wine lake. Half the neighbourhood kids under the age of 13 were up in the trees like little crows. But heck you don't know how many berries you've got while they're on their little umbrells. You have to strip them off with a fork, which is great fun when you start, because they ping off all over the kitchen like miniscule black ink bombs. But if you do as many as this it becomes tiresome... (I bore easily!) However they do look all yummy and glossy like great fat caviar.
I was furnished with some excellent recipes and advice...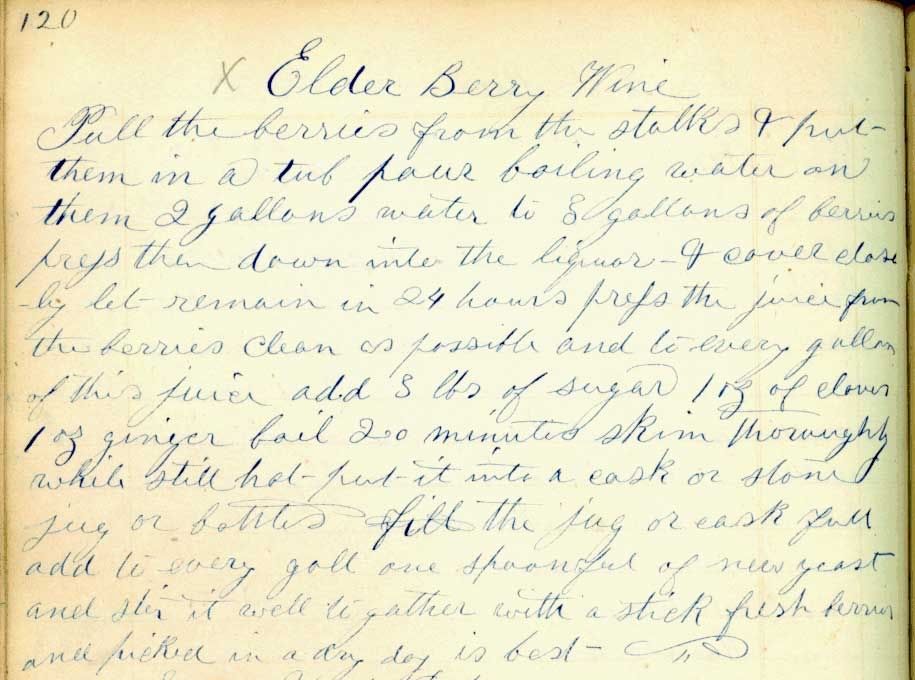 But I mixed and matched a bit, because quite a few knowledgeable types suggested that some apples and/or plums might lighten the wine in a pleasant sort of way. So as the neighbours' apple and plum trees were tantalisingly offering their bounty over their owners' perimeters, I stuck some in. The apples took on a rather fetching pink colour from the eldedrberry juice. Look at that! Good enough to eat!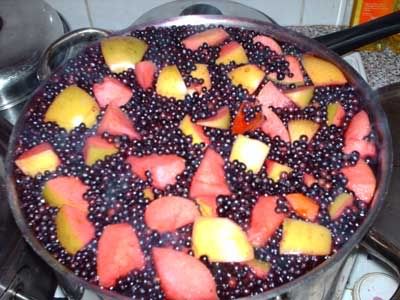 The idea then was to slosh in a bit of water and boil them up to kill off any bad bacteria. Hmm yes but those old grannies had bloody great cauldrons, didn't they? I found I had to use every pan in the house!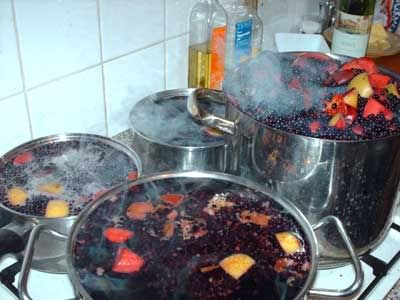 I sloshed the fruit into the "primary fermentation vessel" - that's a bloody great bucket to you - and as I hadn't been able to get the sugar in the pans, as well as all that goodness, I dissolved the sugar in some water from the kettle and sloshed it in after the fruit.
You have to give it a stir, then wait until it's lukewarm to stir in the yeast. And there it sits - stewing for a couple of days.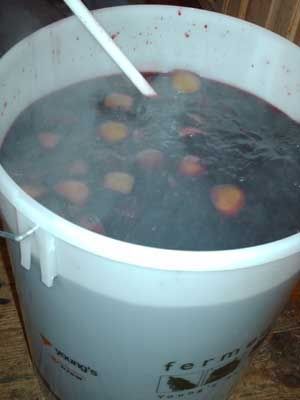 This weekend I'm due to sieve the mixture... I (not unlike the Kaiser Chiefs) predict a riot... the potential for purple goo all over the shop is positively thrilling! Then the bung and airlock go in and I shall have to use every means at my disposal to resist the tempation to drink the wine for at least six weeks.
That's 5 gallons or 30 bottles. Should be ready for Christmas at a pinch. Yum!
I may regale you in another post with elderberry trivia, such as the fact that elderberries come from elder (
Sambucus nigra
) which is where you get sambuca (you know the liqueur witha coffe bean in it that you light in restaurants)which is made by infusing Elderberries and anise into alcohol.
Or I might not...