For Sarnia - properly, pickled...
Since Sarnia expressed an interest, herewith, I give you a private peek into the pickle pantry.
The little jar in front containing the yellowy greeny chutney is the green tomato one in question. That's all we've got left! The recipe makes about 4lbs. It's yummy.
Green Tomato Chutney

2lb green tomatoes
8oz onions, chopped
8oz cooking apples, peeled cored and chopped
10fl oz cider vinegar
4oz sultanas
1 teaspoon salt
½ teaspoon cayenne pepper
½ teaspoon dry English mustard
8oz light brown sugar

The recipe says you skin the tomatoes by blanching them in hot water for 30 seconds. I now know you need longer than that or the pesky skins don't come off and then run them under the cold tap or the skin comes off your finger tips rather the tomatoes!

You chop the flesh and put it in a preserving pan with the onions and apples.

Add about half the vinegar and cook gently until the fruit and vegetables are soft, stirring frequently. (I find stirring is vital, as it makes me feel chef-like and important as well as giving the impression to the casual onlooker that I know what I'm doing).

Add the remaining vinegar with the sultanas, salt, cayenne pepper, dry mustard and sugar and continue to cook slowly for about 15 minutes until the chutney starts to thicken.

Pot while still slightly runny, and seal the jars. I'm told it will keep for at least 3 months, but I can't see our last little pot remaining unconsumed for that long!
In case you're wondering about the rest of the tracklements in the cupboard. The two tall jars back left are pickled beetroot.
So
easy to do.
Pickled Beetroot

Just twist off the leaves, wash well and cook whole in a saucepan of salted water until just undercooked rather than soft. Cool them under the cold tap, then squirt them out of their skins. Pack them into clean warmed jars.

Boil vinegar with peppercorns and an inch or so of peeled sliced ginger for 10 minutes. Strain off the spices, then set aside to cool. Pour the vinegar over the beetroot, making sure it's completely covered. Seal and store.

By the way beetroot is fine in Sarsons ready-spiced pickling vingar too. Traditionally, you can 'gimp beetrots into grotesque shapes' before pickling i.e. carve them into little satyrs with humorously large penises and whatnot, but mine were small ones - so I refrained from dickering about with them!
The dark brown one in the large jar front left, by rights belongs in the 101 things to do with a courgette series. It's a hot spicy chutney but also lovely as a glaze for roast shoulder of lamb or chicken. Just spoon it over the roast about 20 minutes before the end of cooking time.
Courgette Chutney (aka Patent Power Pickle)
1½lb courgettes, thickly sliced
2 tablespoons salt
8oz chopped onion
3 cloves garlic, chopped
12oz muscovado sugar (dark, sticky stuff)
1½ pints red wine vinegar
8oz raisins
1 tablespoon lightly crushed coriander seeds
1 tablespoon peeled chopped root ginger
2 x dried chillies

Sprinkle the courgettes with half the salt and leave to drain in a colander overnight.

Next day, rinse, drain and pat dry. Put into a heavy pan with the onion, garlic, remaining salt, sugar, vinegar and cook gently for about 15 minutes, until the sugar has dissolved and the vegetables have softened.

Add the raisins, spices, ginger and chillies, stir well and cook at a steady simmer for another 25 minutes or until mixture is thick, stirring frequently. Put into warm dry jars.>
And the three large jars on the right are obviously pickled onions. But they've got that lovely rosy tinge because they are a mixture of red onions, small brown onions and shallots. Here they are soaking in their brine overnight prior to pickling.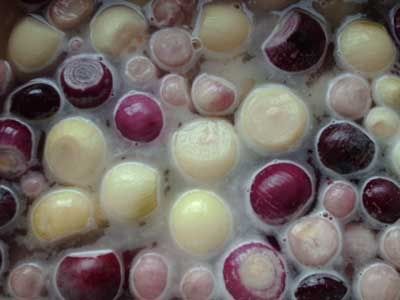 Pickled Onions

2lb pickling onions
2oz salt
1 pint clear malt vinegar
1 teaspoon black pepper corns
1 teaspoon coriander seeds
2 bay leaves
2 dried chillies
1oz ginger, peeled and sliced

Peel the onions carefully with a sharp knife, removing only the minimum at the base and tip. Soak overnight in the salt mixed with a pint of cold water.

Next day, drain the onions and wash them in cold water to get rid of excess salt. Set aside to drain.

Put the vinegar in a pan with the peppercorns, coriander seeds, bay leaves, chillies and ginger and boil for 10 minutes. Set aside to get cold.

Pack the onions into cleaned warmed jars, wiping each one with a cloth to get rid of the last traces of moisture. Pour on the cold vinegar.

If you like a very strong flavour, include the whole spices in the pickle, otherwise strain them off. Make sure the onions are completely covered with vinegar. Seal the jars and keep for about 6 weeks before opening.
So that's it, really... pickling is a doddle!