There's another one!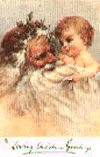 And this one is a flippin' Tory Council! Havant has outlawed the word Christmas and banned Santa's grotto from its shopping centre because of the fire risk! It must be true - it's in
The Sun!
The annual £5,000 display of Christmas lights partly funded by local businesses, is being renamed the "Festival of Lights".
"Festival of Lights"? I ask you, surely this could offend the Hindus!
Still you could argue that Christmas itself 'borrowed' the pre-existing Yule festival from British pagans, so the mid-winter festival losing its religious status is merely a return to normal.
Here's hoping for a Happy Winterval.. Bah humbug! I LOVE Christmas!
Gavin Corder's Blog: Celebrity Winterfest!