Who's sorry now?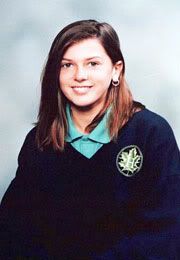 Sion Jenkins was
acquitted
today after 9 years of repeated trial, retrial and appeal for the murder of Billie-Jo above.
If the slap he took in the court today at the Old Bailey from her natural family is anything to go by,
they
think he's got away with murder.
They may or may not be right. The jurors couldn't agree. The police have asked for anyone with further information to come forward but have not said they are looking for anyone else. Evidence of domestic violence that was suppressed as prejudicial to the trial is now coming out, which of course may be no more than prurient gossip. Either way, under the law, he's acquitted. And she's dead.
But am I alone in thinking that her "natural" family must bear their share of guilt?
Had they shown a bit more care and attention to her BEFORE she got fostered out, she would be alive today. If only because she would not have been there, then. Whoever killed her.
In my book it's a bit late to be screaming "Child Killer" from the visitors gallery nine years after she was murdered at her foster home. The time for action was before she was given to strangers.
Perhaps searching their own hearts would be more productive...
PS 20.55 I apologise to the BBC for stress on their servers for linking to and not hosting the image of Billie-Jo. Now rectified.